Hey Veggie fans! Sorry for the lack of updates lately. There really hasn't been any news to speak of, and reviews can take a while to write.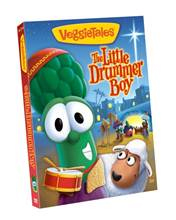 I do have some news for you now though! The photo above is a picture of Mike Nawrocki (the voice of Larry) and Brian Roberts, director of the upcoming show,
The Princess and the Popstar,
signing copies of the new video at the International Christian Retail Show in Atlanta, Georgia. If you look in the background, you can see a poster for VeggieTales' fall release for this year,
The Little Drummer Boy.
I had heard some rumors about it, but I didn't realize that so much information about it had been released until I Googled it.
According to the website Jesusfreakhideout.com,
The Little Drummer Boy
is a new Christmas episode that will feature Junior Asparagus in the leading role. It will be released on October 1st and include award winning artists BeBe and CeCe Winans performing a version of the song that the show is based off of. Original songs like "Can't Smile Without Ewe" will be heard, along with the Silly Song (and I'm very excited to see this) "The 8 Polish Foods of Christmas" from the music album
A Very Veggie Christmas.
More details about about the various things Big Idea is doing to promote the show can be found at
Jesusfreakhideout.com.
Also, Larry is off on a big trip to Tanzania, Africa along with World Vision USA! Be sure to keep an eye on the VeggieTales Facebook page as they will be posting pictures and stories along the way.
By the way, I'm hoping to get a review of the VeggieTales Live DVD up here soon, so keep an eye out!